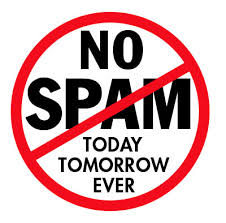 In our last blog entry, we addressed ways to prevent unwanted email. Now we will explore methods to block and report spam that does make it to your private email address.
Most email providers have systems in place to block and report unwanted email. Following are directions for three of the biggest providers:
Gmail: Most unwanted email automatically gets detected and sent to a spam folder, and is deleted after 30 days. If you get a message that you feel is spam, check the box next to it and click the "Report Spam" button in the top tool bar. Conversely, if you find a message in your spam folder that you feel is legitimate, check it and click the "Not spam" button.
Yahoo!: Yahoo's spam filter is strong and catches most unwanted email automatically. If you find a message you consider spam, check the box next to it and click the "Spam" button in the upper tool bar. You can use your Blocked list to stop senders and domains, but that's likely to provide temporary relief, as spammers change addresses and domains regularly.
Outlook: Outlook's Junk Filter is set to Low protection, which catches the obvious spam. You can increase the filter's strength by clicking the Home tab, then Junk, then Junk Email Options. Under the Options tab, select the setting you want for your filter (each are describe there). Also a number of third-party spam blockers can be installed into Outlook, for advanced and updated filtering.
Reporting the spam can hit spammers where it hurts most: in the pocketbook.
Before deleting unwanted email, forward it to [email protected], the spam box for the Federal Trade Commission. The FTC investigates a suspect email, and if it is spam, the original sender can be charged $500 per email. The more email from the same spammer, the more likely that it will be investigated.
Another place to report unwanted e-mail is anti-spam groups such as Spamcop (www.spamcop.net), which tracks spam back to its ISP and reports it.
STAY SAFE!
For help with a computer problem, visit http://www.hcp4biz.com/support-request/.