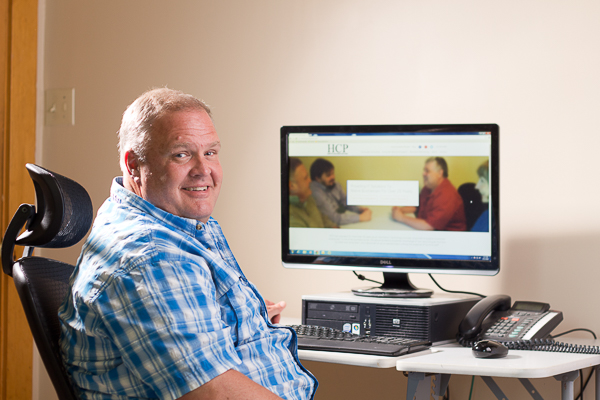 Based in the greater Bangor, Maine area, HCP Computers Inc. operates as an IT department in a large corporation. Unlike a large corporate IT entity, HCP does not just serve a select group of clients. HCP offers its IT Service and Support to a range of businesses.
It does not matter if you are a business with two employees or a business growing to nearly a hundred employees. HCP's IT Service and Support can accommodate your company. We have long-term partnerships with several large corporations where we step in as a group of IT Service and Support professionals to add our depth of knowledge and availability to their existing staff.
HCP also acts as a temporary IT Service and Support group for companies when they need extra staff-hours or resources for large-scale projects. We offer this service if you need to augment your current IT staff during difficult scheduling situations like vacation coverage, emergency relief, or even when your company's staff may be unable to fulfill their roles due to illness or other reasons.
If you're not a large corporation, HCP is just as good at providing you with an IT team at a lower cost than full-time, permanent staff. Contact us today. See what our IT Service and Support staff can do for you.
The Need for Service & Support
In today's world, there are many different ways to solve a problem in IT Service and Support. There are hardware systems and software systems for just about anything imaginable. Many times, this near-infinite number of solutions is an overload for a business.
It is simply impossible to know every system or a handful of systems inside and out. This is why it is helpful to have an IT Service and Support company that can step into a business. We troubleshoot and maintain common IT systems while helping in more advanced areas.
Services Offered
HCP Computers Inc. has a team of individuals operating out of the Greater Bangor, Maine area, known across many IT operations areas. Each has a special area in which they are highly knowledgeable. This allows HCP to adapt to new and new businesses while offering the basic IT Services and Support discussed below.
Hardware Services
Installation of Machines & Peripherals
Using the initial computer-consulting evaluations and plans as a guide, HCP will help you select, order, and implement IT equipment for your company. No longer does your company need to wade through the endless options for any IT problem or issue you may be facing. Throughout this entire process, we work with your staff to make sure these new systems will work for your business and its goals effectively.
Add-ons & Upgrades
There are usually numerous add-on devices or upgrades a business can use to add value to an existing system. If your company requires a new functionality on top of a pre-established system, there is likely an add-on, either from the same company that produced the hardware or a third party. HCP can take a look and figure out what would work best for your business.
Equipment Sales
As a part of HCP's IT Service and Support offerings, we sell equipment from Dell, Microsoft, Cisco, HP, and other vendors. We sell desktops, workstations, tablets, laptops, switches, firewalls, routers, wireless access points, and servers. If you require a specific product or are not sure what device or product you need, let us know. We will work to find the right solution for your need.
Internet Connections
Internet connectivity is almost a requirement for all people and businesses in today's world. It opens up your business to new opportunities. HCP has experience in figuring out what a company needs for an internet-connectivity package. We will evaluate your current needs and find a package with an available provider that works best for your business, in return value and cost.
Anti-virus Installation & Upgrades
It is essential to have an anti-virus solution in place on all systems in a business. A never-ending cyber-war is going on between those that create viruses for systems and those that protect these systems. In the marketplace, there are many different types of AV solutions.
HCP has many years of experience in figuring out which system works best for a business, then correctly installing and upgrading these AV solutions when needed. Don't be caught one day with viruses running rampant through your business network. Let us take a proactive step in protecting the valuable systems your business has.