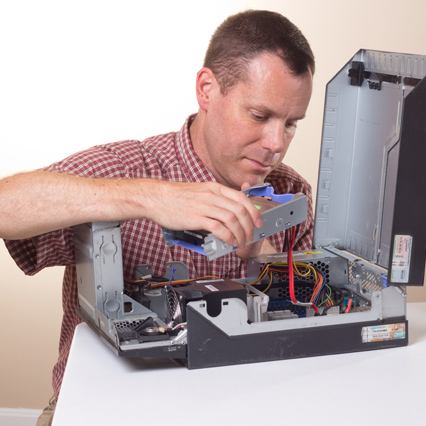 Problems can and will arise within IT infrastructures. It's not a matter of if, but when. Most often, these problems can be simple and easy to fix with hardware or software solutions. Other times, the solutions to these disasters are much more complex.
HCP's team of computer technicians each has many years of experience in dealing with hardware problems associated with servers, desktops, laptops, and computer peripheral devices. HCP, based in Bangor, Maine, will look at the computer-repair problem your company has to create a solution that works for your business.
Once a problem has been found in hardware, HCP can complete the necessary computer repairs unless it is a specialized device. For example, a workstation your company uses will not turn on, and HCP determines that the issue is a faulty motherboard or power supply. We have access to parts that will allow us to fix this problem quickly for your company.
This is not only limited to workstations. If you have a laptop, server, or computer peripheral, we will take a look. We will find the repair t0 get the hardware back in working shape or, if needed, find the appropriate replacement system if it is beyond repair.
Sometimes if a software or hardware issue has disabled a workstation, it may have to be completely reloaded. This computer repair includes the migration of software, data, and licensing on the workstation before the issue. This is a time-consuming, complex task that needs to be completed to get working again. HCP can provide this service for just about any situation, whether in the Bangor, Maine, area or further away.
Preventative maintenance is a way to forestall computer repairs. Hardware, especially servers and printers, require routine cleanings to stay in optimal working condition. Most environments that servers, desktops, workstations, and printers are put into are not clean rooms like you would see at research labs.
Therefore, a certain amount of residue, dust, and other types of buildup are going to find their way into your devices. Having the inside of your devices completely coated with this dust, dirt, and debris hurts your hardware's performance. It can significantly shorten its life.
Don't let this happen to your expensive hardware. Let HCP, which has operated in the Bangor, Maine area for more than 25 years, take care of this required task for your hardware devices. Contact us for a free consultation.