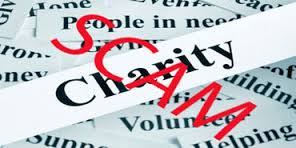 There are people on the Internet waiting to exploit your generous nature. A little research can help your charity dollars reach those that you intend to assist.
Research is only the first step. Next there are a number of warning signs of fraudulent charities. Unless you have previously given your email address to a particular charitable group, assume that any email you receive from a charity is bogus. Clicking on a link enclosed in such an email could also create a pathway for malware to enter your computer.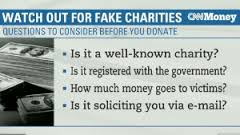 Also, beware of "charities" that:
Won't provide detailed information about its identity, mission, costs, and how the donation will be used.
Refuses to offer proof that a contribution is tax deductible.
Has a name that closely resembles that of a better-known, reputable organization.
Thanks you for a pledge you don't remember making.
Uses high-pressure tactics like trying to get you to donate immediately, without giving you time to think about it and do your research.
Asks for donations in cash or asks you to wire money, or offers to send a courier or overnight delivery service to collect the donation immediately.
Guarantees sweepstakes winnings in exchange for a contribution. By law, you never have to give a donation to be eligible to win a sweepstakes.
So you've decided to make a donation to a particular charity. Your wariness shouldn't end there, however.
Be certain the website of the charity you've chosen uses encryption technology before entering sensitive information such as credit-card numbers or bank draft information. Check the URL: http:// is not secure, while https:// is secure. There should also be a key or padlock symbol located in the corner of the web browser. If you're uncertain, contact the charity by phone or email before donating.
Also investigate the group's privacy policy, so that you know how your personal information is being handled.
For more information, visit http://www.consumer.ftc.gov/features/feature-0011-charity-scams.
For help with a computer problem, visit http://www.hcp4biz.com/support-request/
STAY SAFE!